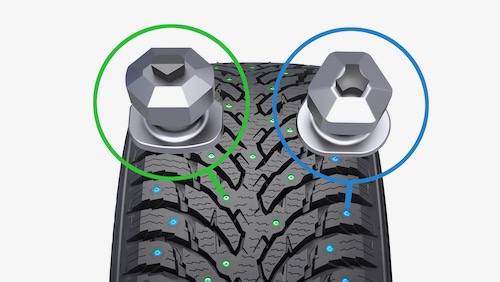 The first thing to consider when buying car tyres for any vehicle is to ensure that you have figured out what tyre you need. Do you need summer, winter or all-weather tyres? If you then need tyres that can fit a hybrid or electric vehicle is the difference between them and regular vehicles with combustion engines. Both hybrid or electrical are unique in that they are heavier than traditional vehicles which makes grip and traction even more important as the additional weight requires longer braking distance. It is also a good idea to buy premium tyres from tyre brands that make have tyre that are recommended for use on a hybrid and electrical vehicles.
In addition, you but also from a company with solid environmental awareness. After all people that look to buy hybrid or electrical cars tend to care about the environment. The Nokian Tyres tyre manufacturing company was the first tyre factory in the world to acquire the BS7750 environmental certificate and they also have the environmental ISO 14001 certificate. It also uses only purified oils in the tyre production- no toxic or carcinogenic chemicals at all. Nokian Tyres offers winter, summer and all-weather tyres for a wide range of uses and that come especially recommended for hybrid or electrical vehicles.
If you have decided for all-weather tyres, then the Nokian Weatherproof come recommended for hybrid or electric vehicles. They combine uncompromising performance, excellent grip through all seasons while allowing reliable handling no matter what the forecast. They steer well both on asphalt and snowy and wet ground, with predictable grip in any weather for year-round use. It is designed with many new innovations like heavy siping of the tread blocks to allow maximum contact with the surface to increase grip on snow and slush, and the "Groove Lifts" on the tread blocks ensures that the tyre behaves in a controlled and stable manner on dry roads as well. The polished grooves effectively remove water and slush for effective hydroplaning protection.
When choosing an all-weather tyre for an electric or hybrid vehicles it is important to look for tyres recommended specifically for hybrid or electric vehicles to be assured the tyres have the properties for their special needs keeping in mind the differences between a traditional vehicle and an electric or hybrid vehicles. When investing in an all-weather tyre like the Nokian weatherproof you can expect a high performing tyre for all-weather suited for the special needs of both electric and combustion powered vehicles. The all-weather tyres are versatile tyres that can handle all seasons, eliminating the need to change to winter tyres in the winter. You can also only use only one set of tyres for the whole season eliminating the need to have one set of winter tyres and one set of summer tyres. By having only one set, you will need to make sure that you rotate the tyres as the same set is used for the whole year and also electric vehicles tend to have a higher wear rate, which require more frequent tyre rotations.
For more information on tyres for hybrid or electric vehicles, visit https://www.nokiantyres.com/