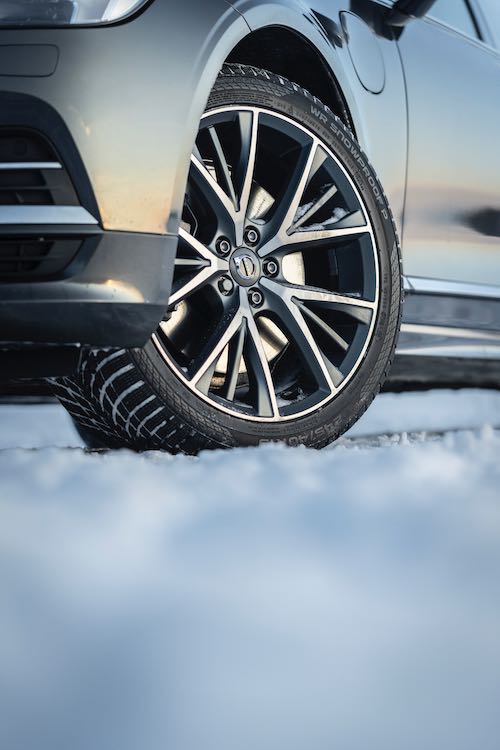 The concept of all-season tyres, is that they are tyres that are made for all-seasons of the year. So, they are made to work on snowy and slippery roads during wintertime just as good as on wet or dry summer roads, while still being able to deliver high performance and safety. This is not an easy feat to achieve and you need to rely on a combination of the perfect compound combined with tread and sipe design that can handle the varying weather conditions.
SUVs like any other vehicles that operate on public roads will need to have tyres that are approved for winter use if they will be used in winter conditions. Heavier vehicles are even more dependent on good grip to ensure that they can stop without skidding on slippery winter surfaces. It isn't enough with rugged looking SUV tyres that aren't approved for winter use, as they are then made for summer conditions and as the temperature drops, they will turn hard and act as ice hockey puck on ice, that is just glide without having any grip or traction.
There are a few different SUV all-season tyres on the market and you need to make sure that you select ones that are approved for winter use and have the snowflake (3PMSF) symbol. If they aren't approved for winter use, they are basically just summer tyres. The ability to handle snow, slush and ice in a safe and controlled manner require that they have passed the stringent tests to get approved. It isn't enough to have tyres that have M+S marking as that is not an indication that they are approved for winter use, it is merely an indication that the tread can cope with solids like mud and snow without it getting stuck in the treads and compromising its efficiency.
SUV tires tend to have aramid reinforced sidewalls that protect them and prevent sharp stones or objects of damaging the tyres. This is true if you select one of the two offered by Nokian Tyres, which are the Nokian Seasonproof and the Nokian Weatherproof.  The Nokian Seasonproof is the newest addition to the range, and they are available for both passenger cars and SUVs. Since they are both approved for winter use, they can both be used all-year round.
Nokian Tyres is well known for producing top of the line winter tyres and since they are manufactured and tested in the Nordics, they are tested under very varying weather conditions. If you feel like SUV all-season tyres would be the best solution for your SUV, then the new Nokian Seasonproof will provide you with some of the best of the newest innovations inegrated into the tread and sipe profiles and offer some of the best when it comes to perfect harmony of performance and safety. You will not have to worry about weather forecasts, but you do have to measure the tread depth and make sure that you rotate the tyres when you have a difference of 2-3 mm between front and rear tyres.
For more information regarding winter approved all-season tyres for SUVs, visit: https://www.nokiantyres.com/