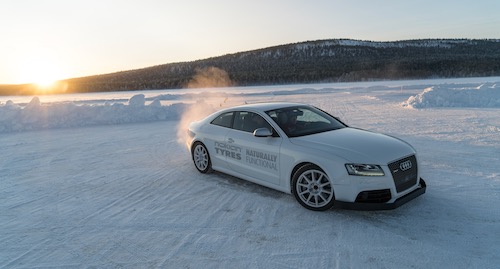 When in the market for car tires for all year-round use then you will find yourself looking at all-weather tires and all-season tires. Which one to choose depends on where you live. Basically, the all-weather tires hold the "Three Peak Mountain Snowflake" emblem indicating that these tires have met the required performance criteria in snow testing and are considered severe snow service rated. All-season tires on the other hand are not snow service rated. The name "all-season tires" is somewhat of a misnomer as they are not rated for use in winter or at least not for snow and ice. The all-season tires are for all seasons in areas where they don't observe severe winter weather.
This makes all-weather tires the best choice in areas with severe winters – at least if you are looking not to change into snow tires in the winter. It is because the all-weather tires hold the same severe service rating as winter tires that you can keep them on all year, even in the winter. This is a great advantages not only because you do not need to change tires but because you will be prepared for the first snow fall.
If the area where you live has mild all year-round weather, then the all-season tires are an option. All-season tires do not need to have as aggressive tread as all-weather tires as they do not need to meet the criteria for performance testing on snow. All season tires like the Nokian eNTYRE all-season tires offer excellent wet grip and stability while allowing for both comfort and performance in an environmentally friendly tire. It also offers hydroplaning protection and even has a hydroplaning indicator.
Whether choosing all-weather tires or all-season tires you need to respect the manufacturer's recommended size tire for your make and model of car. Whether the choice is to invest in all-weather tires or all-season tires the dimensions need to be those recommended by the car manufacturer. This means if the recommended dimensions are 215/70R16 then you would need to equip your car with either 215/70R16 all-season tires or 215/70R16 all-weather tires. In general, as long as you install the correct dimension tires for your vehicle's make and model then you are well equipped to handle any road conditions no matter what the forecast.
When looking for tires remember to consider the weather conditions you will be encountering in the area where you live. Which year-round tire to choose depends on the climate in the area where you live. The all-weather tires are a good choice for people looking to keep one set of tires throughout the year but yet live in an area where the winters requires adequate tires to deal with snow and ice. With winters being quite severe in many areas of the United States, having proper snow tires is important as they are apt to handle both snow and ice.
For more information regarding all-weather tires, visit: nokiantires.com